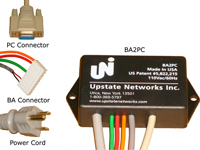 BA2PC™
Bill Acceptor to RS-232 Interface
Licensed under US Patent 5,822,215 for Public Access Internet Terminals
Product Summary / Key Features / Specifications / Software Developer's Kit
---
The BA2PC is an electronic circuit designed to interface a standard bill validator to any PC. Combined with free software foundations it provides a simple but elegant solution to the bill validator aspect of the public access PC platform. It uses a standard DB-9 serial port connector and connects to any standard 120v AC bill validator. We highly recommend Coinco brand bill validators. The BA2PC interface uses Digital Signal Processing to sample and validate the incoming dollar bill and then buffers the count freeing up system resources on the CPU. Internet Kiosks combine the look and feel of traditional public display video gaming terminals, with direct access to the Internet.This combination of easy access, easy payment(UNI's patented bill acceptor software) and sturdy, attractive enclosures, has made the kiosk a popular option nation wide. If you are interested in providing computer use and Internet access to the public and want further information on how to go about it, read on.
---
Digital Signal Processing:

Digital Signal Processing: Never misses a dollar bill. 99.998% accuracy relaying valid bill validator information.

Interrupt driven:

The BA2PC frames, buffers, and transmits the bill validator information to the PC via an interrupt driven comm. port. Other devices rely on "polling" the bill validator and comm. port which means lost dollar bills when the CPU is under load.

Optically Isolated:

The BA2PC isolates the computer's serial port from the bill validator using optical. That means there is no risk of the 120v AC getting to your PC.
UL Listed components and field proven track record.
---
Physical:

1-1/2" x 3" with mounting tabs.

7' DB connector.

7' grounded power cord.

Environmental:

operating temperature: 0-150 degrees Fahrenheit.

relative humidity: 5%-95% non-condensing.

Reliability:

MTBF: 508,080 hrs.