PC2MDB Android Library

Now integrate
The PC2MDB™
with any Android Device that is USB-Host Compatible with Upstate Network's PC2MDBAPI Library.
---
The PC2MDB™
The PC2MDB™ allows the PC to act as a slave device for existing vending machine controllers (VMC). It allows the PC to act as a cashless device. The PC2MDB interfaces any MDB vending device to the PC via the serial port.. Perfect for PC interfaces to existing vending machines to allow the PC to control the vending machine.
---
---
PC2MDBAPI (android library)
No rooting of devices is needed.

Easy to integrate. Just drop in the jar, follow a few simple steps and your app is ready to communicate with the PC2MDB™ circuit board.
Works with the majority of USB to serial adapter cables available in the market.
Use this library for an unlimited number of projects both personal and commercial.
Library, project sample, and documentation are all available.
---
Screen Shots of Example App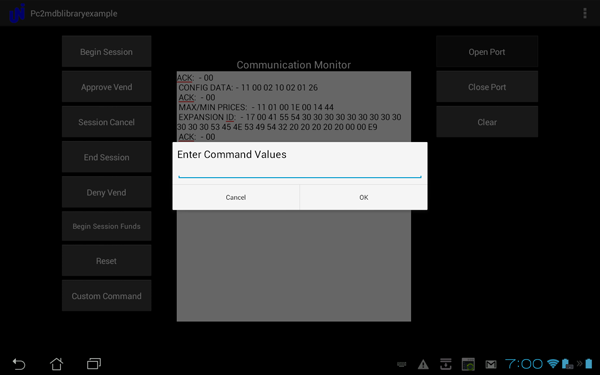 ---